Deep Creek Lake Vacation Rental Condo
Garrett County, Maryland
Welcome to Ski Cove 4, our vacation rental home at Deep Creek Lake! Located in the western most part of Maryland, Deep Creek Lake is a true four-season vacation area. Our condo is located on the shore of Deep Creek Lake, in a small development of 14 townhomes called Ski Cove. Boatslips are just outside the door, and there is a private tennis court for guests and owners to use.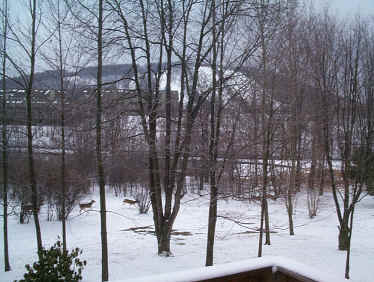 As you can see in the photo, Wisp Ski Resort is just across the lake, only a three minute drive away. Restaurants, golf, boat rentals, and grocery shopping are equally close. (See the deer running along the shoreline in the photo!)
Our condo unit features an indoor, four-person hot tub!
If you are interested in renting our condo unit for your vacation or short get-away, please contact Jo Ann Bell at JABELLK@aol.com , or phone (540) 955-1287.
For more information on our condo, the Deep Creek Lake area, or rental rates, please follow the links. Ski Cove is a wonderful place to spend your Deep Creek Lake vacation. We look forward to renting to you!